Commercial Concrete Contractors Lincoln NE
Is your business looking to build, upgrade, or expand upon a commercial building or structure? If you want a building that will be strong and durable, then you want a building constructed from concrete. That's where we come in. Lincoln Concrete Company is the number one commercial concrete contractor in the area. 
We serve Lancaster County and the surrounding areas for all of your commercial concrete needs. We build, repair, and expand restaurants, stores, warehouses, office buildings, and multi family residences. Your business will experience heavy foot traffic, shifts in the ground, and weathering so you want it to be made with a heavy duty material so it should be constructed with concrete. 
Commercial concrete is made with a stronger mix and stronger reinforcements are used in the building foundation than in a residential building. This makes sense because a commercial building is going to have to bear a heavier load and is exposed to more wear and tear. 
Lincoln Concrete doesn't stop at commercial buildings, we also specialize in installing the following commercial concrete structures: 
Parking lots

Sidewalks

ADA ramps

Concrete Slabs
In addition to building new structures or expanding upon existing buildings, LCC also specializes in commercial concrete repair of all kinds. No job is too big or too small for our concrete contractors.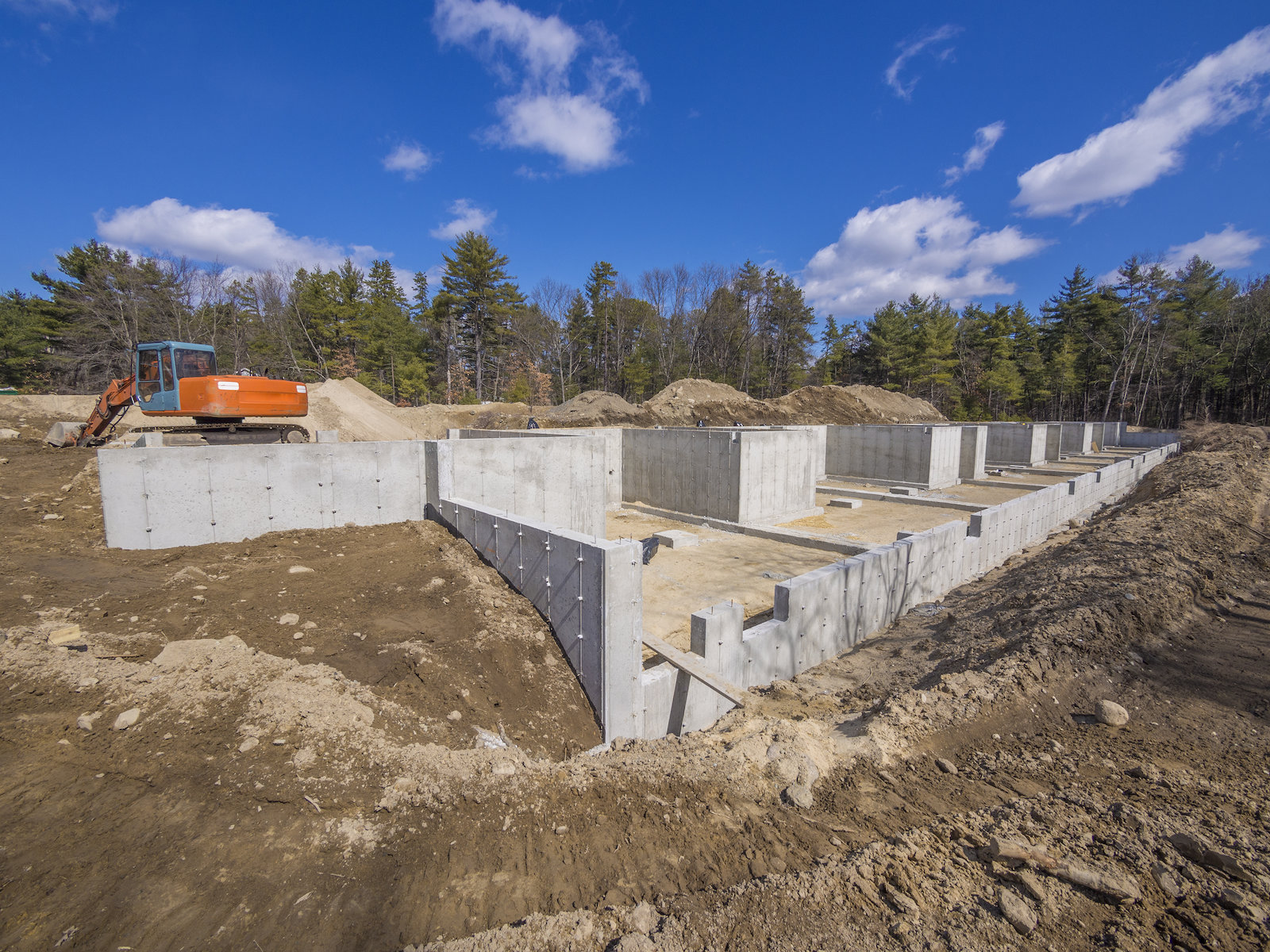 Commercial Concrete Construction
Lincoln concrete is licensed to install commercial concrete structures of all kinds in and around Lincoln, Nebraska. Whether you need a new building, or want to expand or have repairs done on an existing concrete commercial building, LCC is your go to commercial concrete company. 
Our contractors are highly skilled in installing the following concrete structures: 
People go to parks for relaxation, recreation, and beautiful scenery so you want an attractive and durable surface that can withstand heavy usage. Concrete provides that durability and with decorative options available, we can install visually appealing and functional concrete slabs in your community's park. 
Warehouse facilities house heavy loads and endure heavy foot traffic and traffic from machinery, therefore, they need a solid foundation, floors, and walls to support inventory and machinery. Naturally, concrete is the best choice of construction material because it's durability lends itself to supporting heavy loads and traffic. 
By their nature, storage facilities are built to support and protect inventory or people's possessions. A concrete building is strong enough to protect the items within it from the elements as well as ground shifting and other wear and tear. 
Commercial concrete foundations
The foundation of your building supports the entire structure and everything in it. Concrete foundations are a cost effective way to install a durable and easily maintained foundation. 
Commercial concrete slabs
The contractors at LCC are experts at pouring concrete slabs to be used for walls and floors which need to be thicker slabs of concrete. We also have extensive experience in pouring the  thinner concrete slabs that are used for parking lots, sidewalks, and other exterior slabs. 
Commercial concrete sidewalks
Is your sidewalk full of cracks, holes, loose pieces or other tripping hazards? Not only is a concrete sidewalk attractive and able to hold up to weathering, it is cheaper than other materials and easy to repair. 
Commercial concrete walkways
Let your concrete walkway make a visual statement with decorative staining or stamping. In addition to being budget friendly and durable, concrete walkways allow for versatility in aesthetics and are easy to repair and resurface.
Sidewalks and curbs need to be designed so that all people regardless of their mobility issues can travel with efficiency and ease. At LCC we know the ADA regulations and can seamlessly perform curb ramp installations so the sidewalks and entryways flow without obstacles for ease of access to anyone who requires accommodation. 
Multi family construction
When building a multi family commercial building, it is most efficient to use precast concrete walls, floors, and ceilings. While multi levels can be poured at once, using precast parts makes construction more efficient. 
Multi level concrete construction
Multi level concrete construction requires skill to make sure that the floors, ceilings, and walls join together to create a support network. Your Lincoln commercial concrete contractors are experienced in constructing multi level structures and can calculate the appropriate dimensions and thickness of each concrete slab for maximal support.
Commercial Concrete Services
LIncoln Concrete Company has the capacity to provide a variety of services beyond concrete construction. Whether you need paving or repairs to existing concrete, LCC is your number one concrete company. Our concrete services include:  
Concrete parking lot paving
Concrete paving is cost effective and provides choices for color and decor. It is extremely easy to stain concrete compared to other materials like asphalt. Concrete is also more durable for parking lot installation than other materials, which means fewer repairs and a longer lifespan. 
Concrete road paving produces more durable roads than asphalt and are easier and more cost effective to repair. LCC contractors are experts at paving a concrete road that is built to last with a smooth surface that makes travel easier.  
Do you have issues with standing water on your concrete surface? Let Lincoln Concrete cut a drainage channel or drill drainage holes to redirect water away from buildings to avoid flooding and erosion. 
Lincoln Concrete contractors are professional, licensed, skilled, and have the best equipment  to effectively demolish concrete structures. LCC contractors will ensure that both the demolition and debris removal processes run seamlessly.