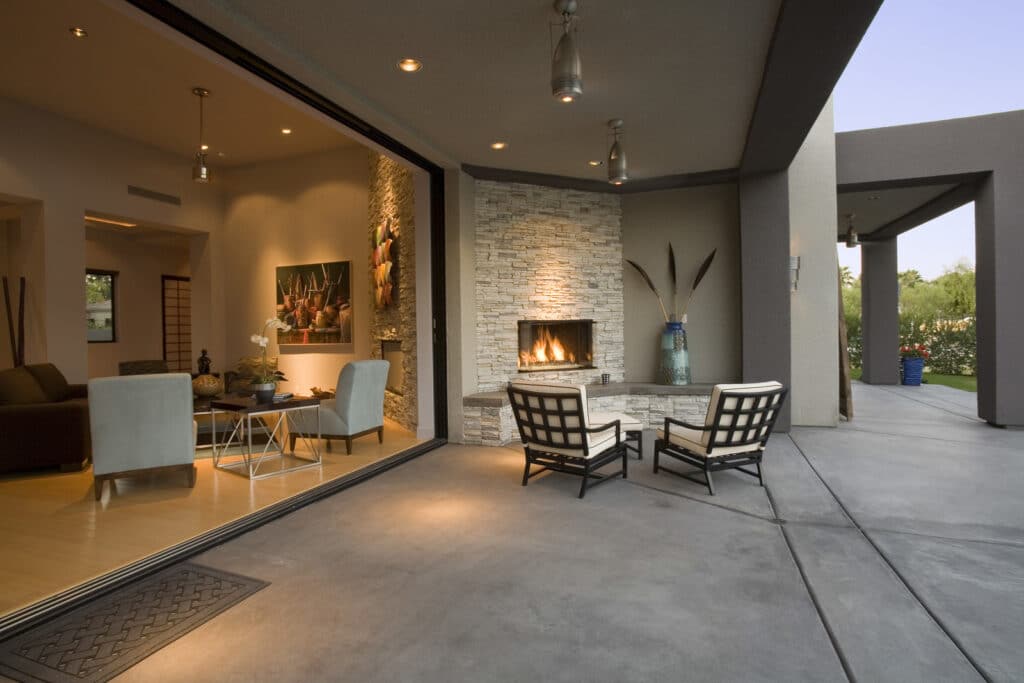 Concrete Patio Contractors Lincoln, NE
Are you looking to install, repair, refinish, or replace a patio in your home? Then you need a licensed, professional, and experienced concrete patio company. Lincoln Concrete Company is the premier concrete patio contractor in Lincoln, Nebraska. We offer many services when it comes to home patios.  
Your Lincoln patio builders serve the Lancaster County area and specialize in: 
Concrete patio repair

Concrete patio refinishing

Concrete patio replacement

Concrete patio extension

Concrete patio addition

Concrete patio resurfacing
We also offer decorative concrete stamping and staining to create a one of a kind, upscale look for your patio. Lincoln Concrete provides quality, professional service in a timely manner. For the most prestigious patio in the neighborhood, we're your expert Lincoln patio builders.  
Concrete Patio Construction
Patios are a place to entertain guests or to relax on a lounge chair in the sun. In essence, a patio is an important amenity for your home's exterior. A new patio is also an investment in the value of your home. So of course you want a patio built by Lincoln patio builders. 
Concrete patios are a cost effective, low maintenance, durable option for a patio that will last for years. This is an investment that will increase the value of your home. 
Stronger than a cement patio, concrete is composed of a mixture of aggregated rocks and cement which when cured forms strong bonds among the mixture of materials, resulting in a long lasting, quality patio. 
The contractors at LCC are experienced professionals patio builders who specialize in custom patio installation. We cut concrete slabs in various shapes and sizes to create a patio that fits with your landscape. 
Lincoln Concrete will work with you to design a unique patio that reflects your personality and enhances your home. We present multiple options for decorative concrete including stamping and staining to add texture and color to your custom made concrete patio that you will love for years to come.
Decorative Concrete Patio Contractor
A decorative concrete patio adds aesthetic appeal to your yard. It sets your patio apart from your neighbor's while reflecting your home's unique personality. There are two principle ways to get a unique look for your concrete patio.  
The best stamped concrete patios in Lincoln, NE are designed by Lincoln Patio Builders. Stamped concrete is exactly what it sounds like. A special tool is used to stamp a pattern into the concrete to add texture and create a new look. Common stamps include tiles, slate, brick, stone, or wood that can be applied in a variety of geometric patterns. A base color can be applied along with the stamp for an authentic look. A release agent is applied which provides an accent color when the concrete is washed and sealed.  
Staining provides a burst of color to your concrete patio. The color settles in and is more vivid than paint or other pigments. Rather than presenting as opaque, staining provides an almost translucent appearance that lends itself to represent patterns such as tanned leather or marble. Unlike paint which covers the surface of the concrete, stain embeds itself into the concrete for longer lasting color that does not chip or peel. A good sealer can prevent fading over time due to light and other elements.  
Concrete Patio Repair or Replacement
Is your patio old? Does it show signs of wear such as multiple cracks or holes? Have the slabs shifted and become uneven? Not only can this be unsightly but it can also present a hazard. 
We offer consultations to present the different repair and refinishing options available. We can also recommend whether you should replace your patio altogether. 
Minor repairs such as filling in cracks or replacing a slab are easy, cost effective fixes. Other options for repairing your concrete patio or simply give a facelift include: 
Resurfacing Concrete patios
The resurfacing process begins with removing old concrete, stains, grease and any other debris that has accumulated on the surface of your concrete patio. We pressure wash the area and add the resurfacing mix.
Refinishing concrete patios
Refinishing your concrete patios is a cost effective way to give your patio a fresh look. The process involves grinding or sanding down the surface layer and filling in any cracks or holes. Then polish is applied to add a shine to the surface. 
If your patio needs multiple repairs or has deep cracks, it will most likely need to be replaced. Lincoln Concrete patio builders are experts at concrete demolition and new patio installation. We provide efficient service and quality craftsmanship that adds value to your home.